Message from God | Hear God Talk
Experience an 18 minute meditation to hear a message from God.
I decided to try and get patients at my treatment center to experience the presence of God like I had. I handed them a piece of paper and took them through a visualization exercise like the one I had taken myself through. After five minutes were up, I asked them to write down any communication they received from God. To my amazement, most of them wrote something down. I will list them for you exactly as they were written down.
Messages from God
1. He told me to love and forgive and He gave me a piece of light to carry with me.
2. I imagined all the sweet things, like ocean, beach, path, water, and flowers. I was in touch with God--I was wearing white. I sat under a tree and was whole with God. He said nothing but His face was beautiful and He even wiggled His toes. Forgiveness was so much there. I went off with Him.
3. I felt a warm comforting feeling growing within me. As the figure moved closer I could feel the contentment I want or need. As I was embraced, the glowing sensation assured me of love, and took away my insecurities, and left me with a feeling of what it means to feel alive. I can still feel the feeling.
4. I seriously tried to reach 'conscious contact' for the third time since I've been here. For the first time I felt something. I saw my Power as a bright and warm light. I asked for help, forgiveness, and strength, for Him to PLEASE love me too. I asked for strength--thanked Him for the fact that I am alive and here. And that we all are alive and here. Felt, (still feel) a beautiful warm feeling inside my whole body!
5. He sat by me then we got up and went for a walk on the beach and I asked Him questions. He asked me what I wanted most out of life. And I said, "money, to be secure." And He said, "If I lived within you, would you feel secure?" And I thought, Wow! Yes, Yes I would, so He blended into me and I felt the best feeling ever. And then I walked on the beach alone feeling great.
6. God told me that I had to work with my wife, show her love, compassion, trust, talk to her, share with her, and hold her. He told me to pray for her. He didn't really talk to me much. He is going to help me in my sobriety. My wife and I are someday going to have wonderful, healthy children.
7. I saw myself enter God and see myself, I didn't see me clearly, but I did hear God saying to me after I went back by the tree that He loves me, and that no matter what, He always has. God has chosen me to be His Son. I didn't know why. While I was seeing through His eyes, I did see a young man that was very afraid, and lonely, and hurt, and didn't even want God to know how he felt. He had a hard time looking at God eye to eye, and he seemed closed off to the fact that God took the time to even come see him. He just could not believe that God would come and see him.
8. Nothing happened.
9. I just felt at peace with my surroundings and myself. I felt loving and loved.
10. Nothing happened.
11. As I was sitting against the tree, Jesus sat down across from me and smiled. He spoke no words, but I heard Him in my head. He offered me love and peace--serenity. I felt His love and peace flow through me--all the while, He kept smiling.
12. I saw Jesus and after we established eye contact He said these words:
Bless you my son
For the life you have been leading
has been all but fun.
Take those evil feelings that
you've bestowed in your pocket.
Position them to your side
and release them like a rocket.
13. It happened that there was a presence, not really anything visual. But I knew I wasn't alone. I was at peace and felt okay--safe.
14. There was a stare down at first but nothing happened. It was like He would not forgive me of all the things I have done wrong. Although I did want to make peace with Him He acted as if He didn't want to make peace with me.
15. He walked up to me and said I have a wonderful family and to be strong and everything will be all right.
16. Felt happy--safe.
17. Everything went as you said until I sat down and talked with God. Then God and I talked about my sins and how I need to live a good life. How to keep speaking to Him for the answers and forgiveness.
18. Nothing happened; I have not found my feeling from within myself.
19. At first I was concentrating too hard. Towards the middle and beginning not much happened cause I tried too hard. There was a peaceful feeling; much like it is just before I sleep. I almost did fall asleep, and that seemed to let everything fall the to the wayside. When I let go, it seemed like I was sort of looking into the future. The way I'm going to be when I have a sober mind, body, and spirit. I seemed so peaceful in thought, in action, and in words. I thought of some of my friends, who will be using still and was kind of filled with sorrow for them, because they could not experience the inner peace I felt.
20. When I sat down, I was kind of scared. But then He started talking and He said He loved me. He is sorry that I was hurt but He wanted me to understand that it was a teaching. He said that now I am beginning to let love in. He said that I would be loved. There was some bad perception in it.
21. I saw God and God walked with me and talked to me.
22. I was on the island at the palm trees and listening to the waves. I heard a voice call my name from the forest. Curious but unafraid, I went. Went and saw God. He told me He was proud of me for coming back to Him. He tells me I have a lot of spirit inside me to give to others, to help others. He told me that He missed me, that my Grandma was doing a-okay!
23. Nothing happened. It's not the right time for the communication.
24. God sat down across from me and I cried. I felt the love and wholeness I've always wanted. No words were spoken yet. I just cried and His face was so loving and caring. I was surrounded by peace and His face showed me that. I kept crying and He said, "I love you My child. I love you."
25. When I was on the island, I felt very peaceful as if nobody could hurt me. I didn't feel frightened when I saw God because I knew that He loved me. When my higher power hugged me, I felt a warm sensation throughout my body. I could feel all the love He had for me.
26. When I first closed my eyes, I saw something in my mind--a color, a texture--that I knew right away was the higher power; but it said nothing to me. But one thing I did come to understand was that the higher power had a reason for not communicating with me. It was due to the fact that I have not been enrolled in the program for long. In other words, I found out the higher power wants to communicate with me, but not yet.
27. I felt a cool tingle all over, and a sense of comfort. He held my hand (in my mind) and proceeded through all of my inner feelings. I kept losing thought of Him and He kept coming back. I felt His hurt and anger along with a sense of understanding and peace. I felt as though something was wrong. There was something He wants me to do for Him but couldn't pin point what. A cool tingle came back along with an assurance that I will know when it's time.
28. I had communicated through my mind and heart. My soul was peaceful and calm. My body was relaxed and willing. My mind was clean and open. Fresh air filled my lungs as I breathed in.
29. I could see a light and the light was talking to me. It said for me not to give up because I can do it and He will be there for, me when I need help. That I'm His child and there will be a time when He will come to get me.
       I found many things fascinating about these experiences. A message was there for all but a very few. Some of them stated that nothing happened, but as I spoke to them after the exercise, most of those people did have something to report. The reason they wrote nothing happened is they were confused about how to describe their experience. Something had happened, but it was beyond their normal experience. This is my conversation with one of them.
  "You said nothing happened?" I asked.
"No," the Patient said, shaking his head.
"Nothing?" I pressed.     
"Well, I did feel kind of different." The Patient looked up.
"What do you mean different?"
"I felt this warm feeling in my body--in my chest."
"What do you think the warm feeling means?"
"I don't know," he said.
"What else has given you a warm feeling in your chest?"
"I feel like that when I'm happy," he said smiling.
"So you did experience something. You experienced a warm feeling in your chest. A happy feeling."
"Yeah!" he said, smiling widely. "I did."
      To all of these patients, God communicated a warm powerful feeling of love. This was at the core of every message except one. In patient 14 there was the experience of someone that was angry and seemed unwilling to forgive him. This didn't sound like the God who was speaking to everyone else. Maybe it meant more to the patient than he knew. During a spiritual experience, God stirs us up on many levels, some of which we understand, and some we don't understand.
It was not difficult for these people to tune in God's voice. It took a simple exercise. In this population there are liars, thieves, prostitutes, child molesters, atheists, agnostics, and believers. God communicated with them all. It did not seem to matter who they were. God came to them with a message that stated I am God, I am alive, I love you, I forgive you, and I will help you.
Test the Communication
There are several ways to confirm that the communications come from God. This is called testing the spirits. Compare the communication with scripture. God will never disagree with himself, and he has spoken in the Bible. Check out the communication with other believers. Some have the gift of discernment. A prayer group or clergy person may be willing to help. If you need a direct test of the communication open the bible randomly and read where ever your eye hits on the page. Three things will be revealed at some point you as you read:
1. A feeling of peace.
2. The hurdle or hurdles between you and God.
3. The action you can take today to begin your new spiritual journey.
Discipline
Discipline yourself to communicate with God every day. Things are not going to get right in your life until you spend quality time with God. Get a pad of paper and a pen and put it beside your bed. Every morning ask God, "God, what do you have to say to me today." Put the pen to the paper. Words will come, and when they do, write them down. It might be a word or two, a sentence or two, or a page or two. You will know when the communication is done. It is your responsibility to carry out what God tells you to do that day. This is the way to be happy, joyous and free.

Discover the Purpose For Your Life
As you continue your communications with God a time will come when he will tell you the plan for your life. This plan will awaken the seed completely and you will be given great power to carry the plan out. This plan will seem so fantastic that you will know that you are incapable of doing it. Remember, if you use God's power, you can do anything. With God all things are possible. All you have to do is take one step at a time and God will make the plan come true.

"For I know the plans I have for you," declares the Lord, "plans to prosper you and not to harm you, plans to give you hope and a future." (Jeremiah 29:11)
Find a Spiritual Friend
It is important to ask a spiritual friend to help you. If you don't do this, evil will fool you and you will get lost. This person must be someone who is further along on the spiritual journey. Pray for this person to come into your life. Find a place of worship where you feel accepted. Tell your spiritual friend everything that happens between you and God. Share the details of your journey.
If you genuinely tried the exercises suggested here, you have made your first conscious contact with God. Don't stop! There are many more ways to hear God's voice. You can improve your relationship with God. You have a long journey ahead of you. This new adventure with God will give you happiness beyond your wildest dreams. I'm sure you can't wait to get going and learn more about how to hear God's voice. He wants to answer your questions and welcome you home.

Tools to help you along the spiritual journey.
This book teaches all the details about how how to communicate with God .
A Communication From God: A meditation tape that gives you your first long conversations with God.
.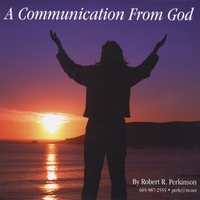 Peace will Come: Let this spiritual music sink into your soul and heal you. Learn every word and sing along.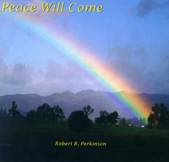 For more information go to www.robertperkinson.com.
Never forget that God has chosen you to change human history. All of the pain that you have been through has shaped you for this moment in time. You are ready to begin your mission. If this site has helped you, please do three things to help us:
(1) Pray for us as we reach out to the world.
(2) Tell everyone you know that God is talking in a new way.